From cheap to expensive products, we analyzed 677,165 product reviews to find out how the price of a product impacts its rating.
When it comes to skincare, everyone has their holy grail products.
For some, it's an affordable drugstore moisturizer, and for others, it's a premium serum that comes at a pricey cost.
And since there are products available at a wide range of prices, we wanted to look into the data to see if the more expensive products actually had better overall ratings.
The analysis of 677,165 customer reviews
We analyzed the rating of 677,165 customer reviews and found that:
Products worth the splurge

: vitamin C serums, exfoliants, and moisturizers

Products that don't get much better with cost

: face washes, sunscreens
Vitamin C serums, exfoliants, and moisturizers had significantly better ratings as the price per fl oz. increased.
However, face washes and sunscreens did not get much better as the cost increased.
In fact, more expensive sunscreens actually had a lower overall rating count as the cost increased.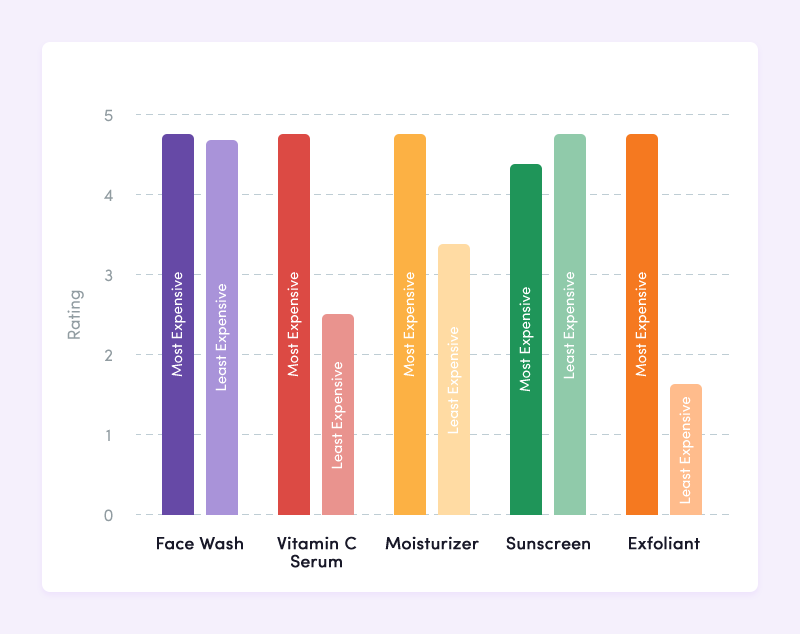 Products worth the splurge
If you're considering a premium product, you may get more bang for your buck on a higher quality vitamin C serum, moisturizer, or exfoliant.
Exfoliants were the best product to splurge on - cost had the most impact on ratings
Moisturizers were the next best product to splurge on
Vitamin C serums were the third best product to splurge on
We don't think any skincare addict would be surprised to learn these products tend to get better as you spend more money.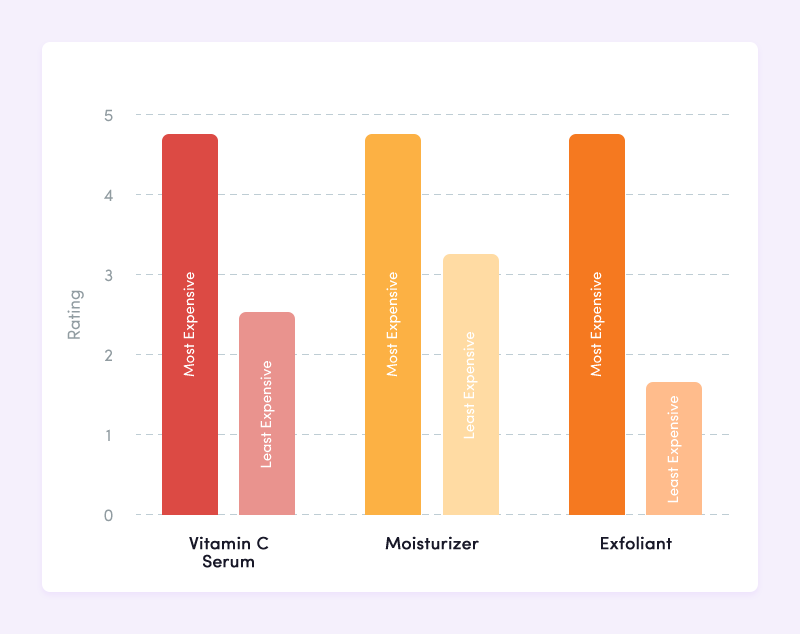 Products not worth the splurge
While some products may be worth the splurge, we also learned that some products don't get better with cost.
Face washes did not get much better as the cost increased
Sunscreen reviews actually got worse as the products got more expensive
Our theory: face wash and sunscreen each have a core function.. to clean, and protect the skin.
As long as they're doing what they were designed to do, the customers were not as critical.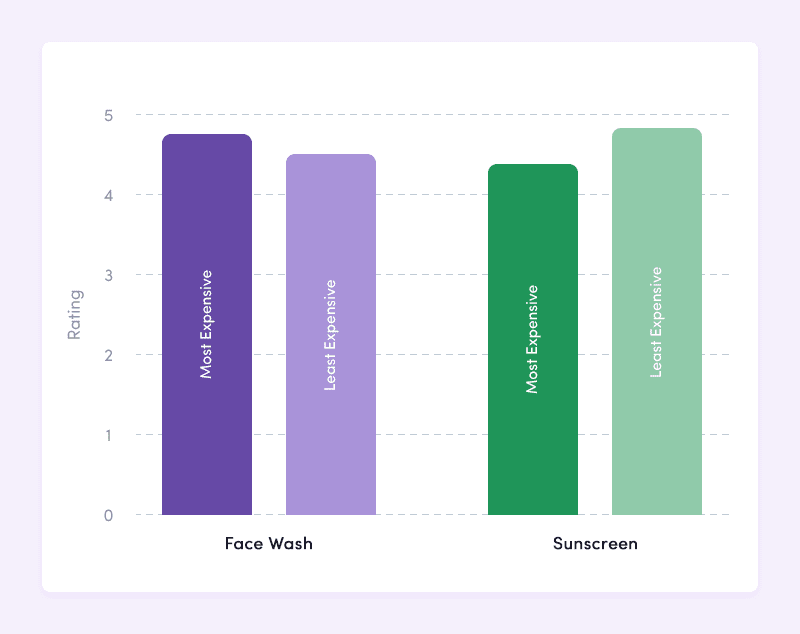 Amazon gets the most customer reviews for skincare products
We analyzed a total of 677,165 reviews across Amazon, Target, Walmart, and Ulta. Of those reviews, 73% of them came from Amazon.com
The total review breakdown per site:
Amazon: 493,467 reviews (73%)
Target: 68,339 reviews (10%)
Walmart: 68,830 reviews (10%)
Ulta: 46,529 reviews (7%)
Is it any surprise that Amazon has become the #1 destination for consumers to review skincare products?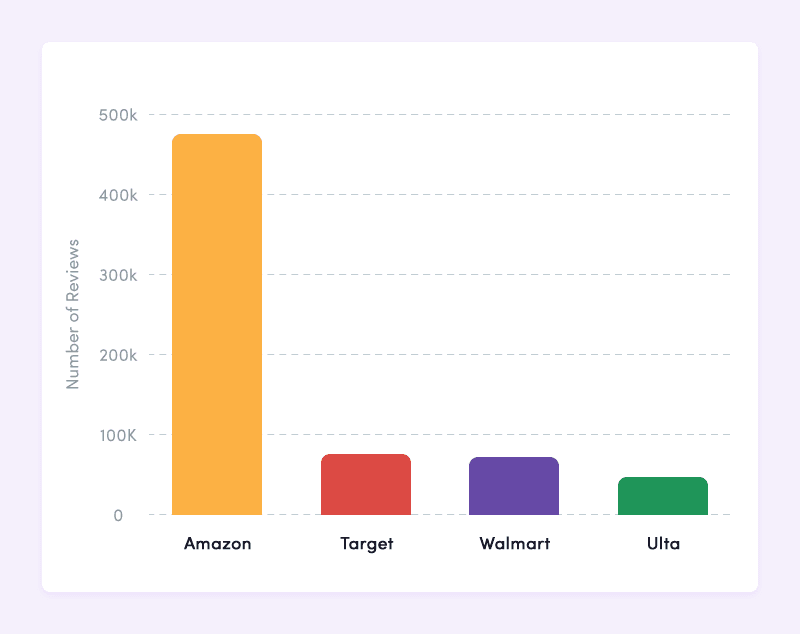 Average ratings on each site
We also wanted to learn how consumers rate products on each platform.
Here's what we found:
Reviewers on Wal-Mart and Amazon give higher ratings
Reviewers on Target and Ulta give lower ratings
Perhaps those who shop at Target and Ulta for skincare products have higher expectations for their beauty purchases.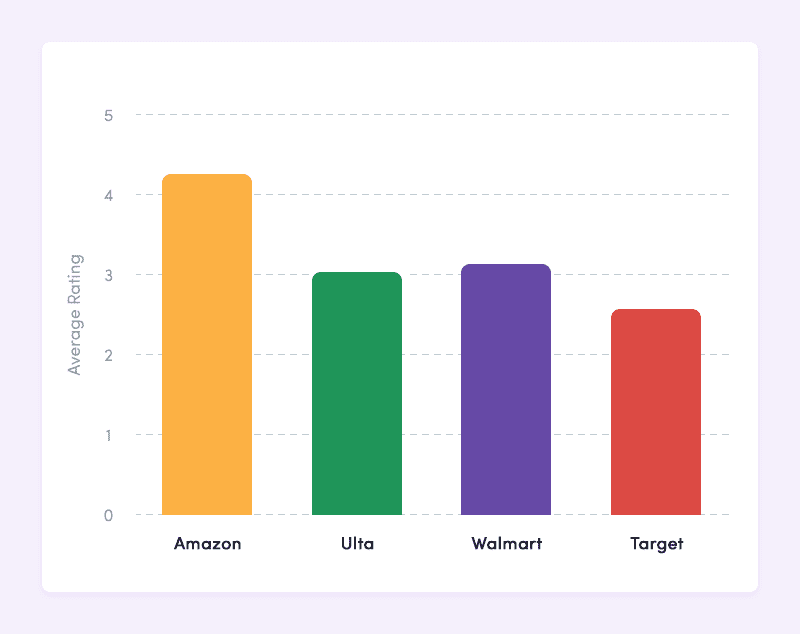 Methodology
We analyzed a total of 677,165 customer reviews across Amazon.com, Ulta.com, Target.com, and Walmart.com.
We then broke down each review by rating (1-5) and analyzed the results for each category.
The data is accurate as of February 2022.
Where did the custom review and rating data come from?
The data was from each retailer's official website. Amazon.com, Ulta.com, Target.com, Walmart.com
What products were used in the study?
Face Wash: CeraVe Hydrating Facial Cleanser, Neutrogena Oil-Free Acne Wash Pink Grapefruit Foaming Scrub, Cetaphil Daily Facial Cleanser, Aveeno Positively Radiant Skin Brightening Exfoliating Daily, Clinique Liquid Facial Soap, Olay REGENERATING CREAM CLEANSER, La Roche-Posay Toleriane Hydrating Gentle Facial Cleanser, Murad Clarifying Cleanser, The Ordinary Squalane Cleanser, Tatcha THE DEEP CLEANSE Gentle Exfoliating Cleanser

Vitamin c serum: The Ordinary Vitamin C Suspension, CeraVe Skin Renewing Vitamin C Serum, SkinCeuticals CE Ferulic® with 15% L-ascorbic acid | Vitamin C Serum, Drunk Elephant C-Firma Day Serum, TruSkin Vitamin C Serum for Face, La Roche-Posay Pure Vitamin C Face Serum

Exfoliant: Paulas Choice 2% BHA Liquid, Paulas Choice 8% AHA Gel, The Ordinary Glycolic Acid 7% Toning Solution, T.L.C. Framboos™ Glycolic Night Serum, Stridex Strength Medicated Pads, The Ordinary Lactic Acid 10% + HA, Dr. Dennis Gross Alpha Beta Universal Daily Peel, Biologique Recherche Lotion P50, Pixi® Glow Tonic, Alpha Skin Care Renewal Body Lotion

Moisturizer: CeraVe PM Facial Moisturizing Lotion, Crème de la Mer, Neutrogena Hydro Boost Water gel, tatcha the water cream, clinique dramatically different moisturizing gel, First Aid Beauty Ultra Repair Cream, Cetaphil daily oil-free hydrating lotion, Olay regenerist micro-sculpting cream, La Roche-Posay Toleriane Ultra Moisturizing, Cream Kiehl's Ultra Facial Cream with Squalane

Sunscreen: La Roche-Posay Anthelios Melt-In Milk Sunscreen, Supergoop! CC Screen EltaMD UV Clear Face Sunscreen SPF 46, Black Girl Sunscreen SPF 3,0 SkinCeuticals Daily Brightening UV Defense Sunscreen SPF 30, Neutrogena SheerZinc Dry-Touch Sunscreen Lotion, Murad City Skin Age Defense Broad Spectrum SPF 50, Cetaphil Sheer Mineral Face Liquid Sunscreen SPF 50, Neutrogena Clear Face Sunscreen Lotion SPF 55, CeraVe Hydrating Mineral Sunscreen SPF 50 Face Lotion
How did you choose the products?
We selected products at various price ranges, that had a minimum of 5,000 total reviews across all retailers, and that were available on every site