If you're looking for products to help with signs of aging, The Ordinary Buffet serum may be a great fit for you.
Before you give it a try, read our review to learn more about the ingredients and how this serum can become part of your daily skincare routine.
Key Takeaways
The Ordinary Buffet is a serum that targets multiple signs of aging
The central peptides featured in the formula were formulated to target wrinkles
The formula contains skin-hydrating properties, including sodium hyaluronate
The Ordinary Buffet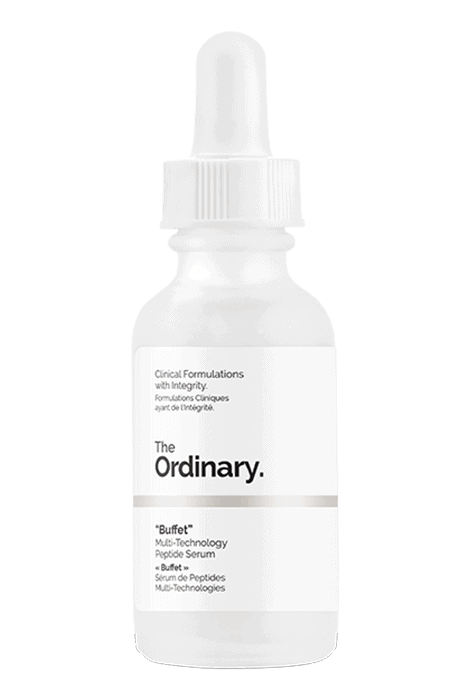 Best The Ordinary Product for Anti-Aging and Wrinkles
The Ordinary Buffet
"Buffet" is a multi-purpose serum that combines a variety of peptide complexes, amino acids, and hyaluronic acids to address signs of aging.
Skin types:
All Skin Types
Best for:
Anti-Aging and Wrinkles
How to use:
After cleansing, apply the product to the face, neck, and chest. Follow up with a moisturizer.
See on Amazon
Peptides are excellent for reducing wrinkles, improving the skin's barrier, and promoting skin elasticity. This gel-like serum from The Ordinary pulls out all the stops with six peptide complexes for potent anti-aging benefits.
Pros
Alcohol Free
Vegan and cruelty-free
Cons
May irritate sensitive skin
In addition to the peptide complexes, this serum contains 11 amino acids that help increase the skin's hydration and further fight the signs of aging. It also contains multiple hyaluronic acid complexes, which attract moisture to the skin and reduce the appearance of fine lines.
Product Overview
The Ordinary Buffet Serum has, like much of the line, developed a cult following.
Created for anti-aging, this review will explain and help to illuminate define what the product might do for your skin.
Claims
The Ordinary Buffet claims it uses technology and multiple peptides to "target multiple signs of aging at once."
The signs of aging it targets are fine lines and wrinkles, boost hydration, brighten dull skin, and help firm and smooth skin texture.
Key Ingredients
Lactococcus Ferment Lysate: a probiotic which allegedly influences skin restoration and promotes healthier skin
Sodium Hyaluronate: a hydrating agent considered more effective than hyaluronic acid
Allantoin: Keeps the skin soft
Acetyl Hexapeptide-8: Helps in water-binding but Paula's Choice ingredient dictionary notes this ingredient may not penetrate through the uppermost layers of skin
Pentapeptide-18: Aids in targeting expression wrinkles
Palmitoyl Tetrapeptide-7: Apart of the Matrixyl-3000 peptide complex, which helps to calm irritation
Palmitoyl Tripeptide-38: Paula's Choice reported the only study was conducted by the brand but noted women who used the ingredient saw a difference in signs of their skin's aging.
How to Use
After cleansing and exfoliating, apply a few drops of product to your skin and gently massage it into your target areas. Follow up with your favorite moisturizer.
The product can be used both in the morning and at night.
What to Expect
When used consistently in an appropriate routine, those who use this product may find facial wrinkles reduced. Users can expect to have more hydrated skin, a result of the hydrating agents.
FAQs
What does The Ordinary Buffet do?
It is believed Buffet tackles anti-aging through the use of peptides that penetrate the skin's surface to plump the surface. The peptides also aid in restoring and smoothing skin's surface, giving a more youthful appearance.
How long will it take for the product to deliver results?
The Ordinary Buffet may take weeks to months to show improvements with skin, depending on rate of cell turnover. It will not show instant results.
How can I incorporate The Ordinary Buffet into my skincare routine?
The Ordinary Buffet is a serum, therefore it is advised this product is used after cleansing, toning, exfoliating and followed up with moisturizer. The Ordinary recommends users of this serum do not use peptides with the direct acids, L-Ascorbic Acid and Ethylated Ascorbic Acid. They also do not recommend this serum be used with strong antioxidants.
Can You Mix The Ordinary Buffet?
Yes, The Ordinary Buffet can be mixed. However, The Ordinary doesn't recommend the product be mixed with other direct acids, Vitamin C serums or strong antioxidants.
The Bottom Line
The Ordinary Buffet offers an array of benefits, including exfoliation, hydration but the major ingredients focus on various anti-aging techniques, including skin plumping and skin restoring.
The central peptides featured in the formula were formulated to penetrate the skin in order to achieve restored and smoothed skin.
Pentapeptide-18, palmitoyl tripeptide-38, acetyl hexapeptide-8, palmitoyl tetrapeptide-7 were all formulated to tackle wrinkles, as well as replenish and restore the skin.
The formula is also packed with hydrating agents, including sodium hyaluronate.