The Ordinary's AHA 30% + BHA 2% Peeling Solution can be helpful in improving skin texture and tone. While only recommended to be used twice per week, its powerful ingredients work wonders for your skin.
To see if this product is a fit for you, below is our detailed review on this fan favorite product.
Key Takeaways
The Ordinary's Peeling Solution is an abrasive and intense exfoliating peel meant to chemically slough dead skin.
The solution has an acid-packed formula, including several AHAs + BHAs
The peeling solution likely works on skin very quickly but is to be used with caution, due to its high concentration of acids.
The Ordinary Peeling Solution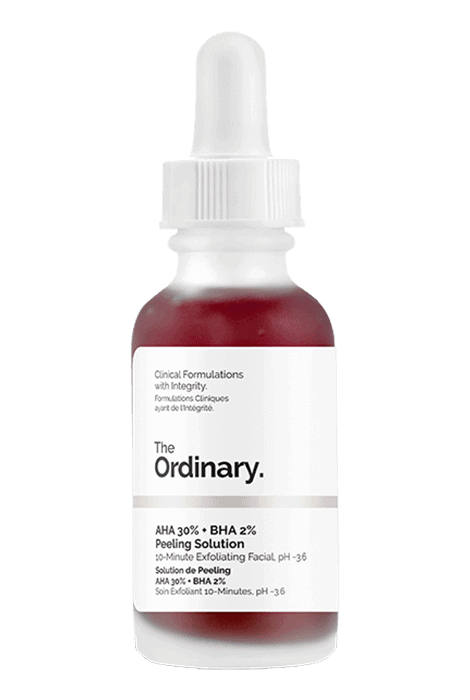 AHA AND BHA EXFOLIATING SERUM
The Ordinary AHA 30% + BHA 2% Peeling Solution
This peeling solution is one of the best The Ordinary products, particularly for those looking for a high-strength but budget-friendly at-home peel.
Skin types:
Normal to Oily Skin
Best for:
Improving Skin Texture and Tone
How to use:
Cleanse the skin, and wait for it to fully dry. Once dry, apply the peel evenly over the face and neck. Leave on for up to 10 minutes, and rinse with lukewarm water.
See on Amazon
This peel offers a range of benefits, thanks to a high concentration of alpha-hydroxy acids (glycolic acid, lactic acid, tartaric acid, and citric acid), as well as an effective concentration of beta hydroxy acid (salicylic acid). The AHAs help to exfoliate the top layer of the skin to reduce the signs of aging, improve texture, and minimize hyperpigmentation, while BHA unclogs pores for a clear complexion.
Pros
Oil-free
Alcohol-free
Vegan and cruelty-free
Cons
High probability of irritation (best used by those experienced with acids)
This peel contains ingredients to help counteract irritation, including Tasmanian pepperberry and vitamin B5. However, this peel is still very strong for an over-the-counter product, and is best suited for those who already have experience using chemical exfoliators in their routine.
The Ordinary Peeling Solution Overview
Perhaps one of the recognizable products of DECIEM's The Ordinary line with its blood red formula and tingling viscosity, The Ordinary's Peeling Solution is a ten minute exfoliating mask which acts as like a chemical peel.
Overall, it can help resurface the uppermost layer of skin. Ultimately improving skin texture and clearing pores, for a more even and glowing complexion.
Claims
This solution makes many claims, starting with its exfoliation.
1. Brighter and More Even Skin
According to their product description, the 30% AHA + BHA 2% Peeling Solution will exfoliate the skin through AHAs and BHAs for "for a brighter and more even appearance" and "help clear pore congestion."
2. Better Texture and Improved Fine Lines
It also claims the peeling solution will "help fight visible blemishes and for improved skin radiance."
The description continues: "The formula also improves the appearance of skin texture and reduces the look of fine lines with continued use."
3. Reduce Inflammation
The product description also adds the formula has healing ingredients, meant to reduce inflammation caused by the peeling solution.
"This formula contains a studied Tasmanian Pepperberry derivative to help reduce irritation associated with acid use.
This formula is further supported with a crosspolymer form of hyaluronic acid for comfort, Vitamin B5 to assist healing and black carrot as an antioxidant."
Key Ingredients
Glycolic Acid: The main acid featured, this AHA helps to shed dead skin cells and is known to aid in renewing the skin
Lactic Acid: An AHA which helps with anti-aging
Salicylic Acid: A BHA, which helps to clear blackheads and blemishes by exfoliating the pores
How to Use
After cleansing the face and letting it dry completely
Next apply a thin, even layer of The Ordinary's Peeling Solution to skin. Avoid the eye area.
After a maximum of ten minutes. Rinse thoroughly.
Follow up with hydrating serums or thick moisturizer.
It can be used up to twice a week but no more than that.
Things To Know
Like other peels, this peel should be followed by sunscreen the next day or if going out into the sun the same day. The best time to utilize this peel would be the fall and/or winter, to reduce the time spent out in the sun.
The Ordinary recommends users wear protective clothing and to limit sun exposure while using this product and the week after.
The Ordinary also recommends this mask for people who are already accustomed to abrasive exfoliation, writing the product is "only suitable for experienced users of acid exfoliation." It is not recommended to those with sensitive skin.
What to Expect
When The Ordinary's Peeling Solution is used, the user should expect a tingle in the skin as it works to exfoliate dead skin cells. After one use, users can expect a less congested complexion and smoother texture.
When used consistently, The Ordinary's Peeling Solution should promote an even skin tone and complexion (if used with the proper sun and skin barrier protection) with less dark spots, less blackheads and less texture.
FAQs
Can I mix The Ordinary Peeling Solution?
No, this product should not be mixed with other skincare products.
How long will it take for The Ordinary Peeling Solution to work?
With consistent use, users should see a noticeable difference in skin texture and brightness as early as the next day.
How can I incorporate The Ordinary Peeling Solution into my routine?
The Ordinary Peeling Solution is a 10-minute exfoliation peel that can be used 1-2 times per week, after cleansing the skin.
Is The Ordinary tested on animals?
No, The Ordinary does not test on animals
Does The Ordinary contain fragrance or other irritants?
While this product does not contain fragrance, the acids it features may cause intense irritation to the skin and it is not recommended for those with sensitive skin.
The Bottom Line
The Ordinary's Peeling Solution is a 10 minute exfoliation mask that can improve skin texture and brightness. With its high concentration of acids, it will slough the skin of dead skin cells and debris from pores.
Glycolic acid, lactic acid, citric acid and tartaric acid lift and remove dead skin while the BHA, salicylic acid works to exfoliate debris from pores.
With built in relief from its soothing agents and antioxidants, it does do some work to limit the damage done by such an intense peel.
That being said, it is not a solution to take lightly and should be used with caution. If not used with caution, it can do a lot more harm than good, like damaging the skin barrier.