Cerave Renewing Retinol Serum is a night-time serum that can help with fine lines and wrinkles, which are often the first signs of aging.
Key Takeaways
Encapsulated retinol makes it an attractive, gentle formulation
Perfect for targeting fine lines, wrinkles and early signs of aging
Plenty of moisturizing ingredients ensure skin barrier health
Appropriate for all skin types
Skin Renewing Retinol Serum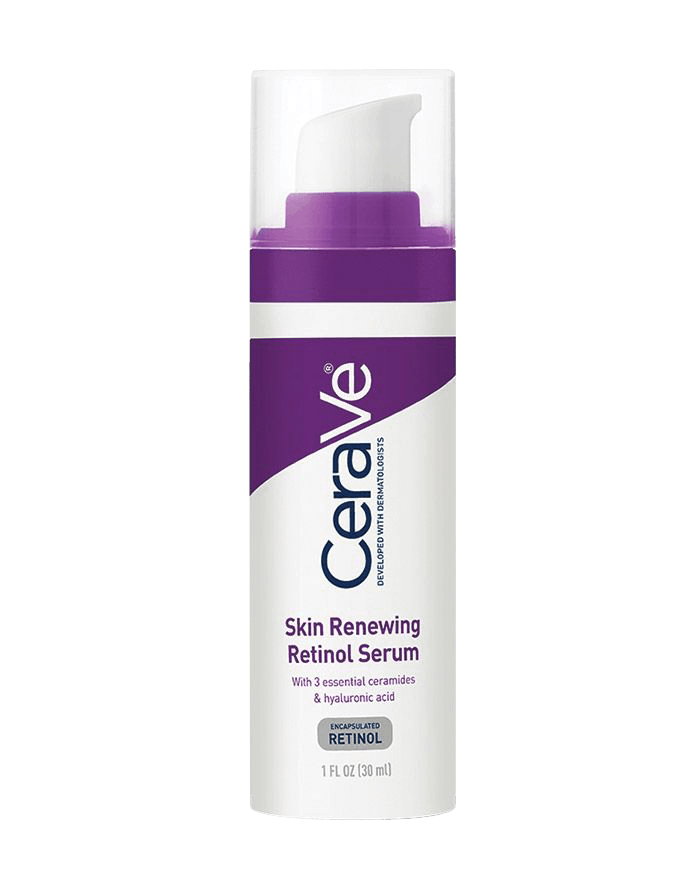 Anti-aging retinol serum for fine lines
CeraVe Skin Renewing Retinol Serum
Skin types:
All skin types
Best for:
Diminhsing fine lines, wrinkles and early signs of aging
How to use:
After cleansing, apply a few drops of product and gentle message into desired areas
See on Amazon
CeraVe's Skin Renewing Retinol Serum is a great addition to fight against fine lines, wrinkles and early signs of aging.
Pros
Contains key ingredients: retinol and niacinamide
Gentle and fragrance free
Affordable
Cons
May not be strong enough on advanced signs of aging
Retinol is able to reduce the appearance of fine lines and wrinkles, as well as improve overall texture. Additionally, the serum contains hyaluronic acid, niacinamide, and ceramides, which soothe, hydrate, and calm the skin.
If there's one thing that is essential to a great anti-aging skin routine, it's retinoids! Retinoids, as we know, are the most efficacious ingredients when it comes to addressing concerns of skin aging.
Retinol is a milder form of retinoids, which get converted to retinoic acid when applied to the skin. Retinol has been clinically proven to reduce subtle signs of aging.
Product Overview
CeraVe Skin Renewing Retinol serum is an anti-aging serum containing the actives retinol and niacinamide.
What stands out is its encapsulated formula along with a host of moisturizing ingredients that make it tolerable yet effective.
Claims
The CeraVe Skin Renewing Retinol Serum is touted as a gentle, daily retinol serum with effects anti-aging benefits.
The product claims to:
reduce appearance of fine lines and wrinkles
improve skin texture and radiance
It is suited to all skin types, with a non-comedogenic formula. Additionally, the patented MVE technology provides continuous moisture.
Key Ingredients
1. Retinol
Retinol is the primary active ingredient in CeraVe's Renewing Retinol Serum.
Unfortunately, the CeraVe website has no mention of the percentage of retinol used in the product. However, some sources believe it is 0.3%.
What is great is that the retinol is in an encapsulated form, allowing for slower but sustained release. This ensures minimal irritation, even for someone new to retinols.
2. Niacinamide
Niacinamide targets blemishes and pigmentation due to its effect on melanin transfer in the skin.
It has a soothing effect so it helps with irritation which normally accompanies use of retinols, especially for dry skin.
3. Ceramides
The product contains three ceramides: Ceramide NP, Ceramide AP, and Ceramide EOP). This is a great addition as it increases the tolerability of the product.
These, incorporated using Multivesicular Emulsion technology, are released slowly over the course of hours, into the skin. This provides continued hydration to the skin and maintains the skin barrier integrity.
4. Other Notable Ingredients
Shea butter, hyaluronic acid, glycerin: moisturizes with emollient/humectant properties.
How to Use
You should apply CeraVe's Skin Renewing Retinol at night, after cleansing.
Step 1: Cleanse your skin with a gentle cleanser, and pat dry
Step 2: Apply a few drops of the renewing retinol
Step 3: Followup with your favorite moisturizer
You can start off with using it thrice a week initially (every alternate day) and slowly switch to daily usage.
Other Tips
Apply it on dry skin as wet/damp skin will increase the absorption and possibly irritant potential from the retinol.
It can be applied all over the face and around the eyes too for the fine lines and wrinkles in this area too - its low concentration makes it safe to use around the eyes.
Just be careful so as to not let it enter the eyes.
Important: The one thing that cannot be skipped while using retinols of any kind - sunscreen! Be sure to use sunscreen a couple of times during the day because retinols make your skin photosensitive and more reactive.
What to Expect
CeraVe Renewing Retinol serum is definitely a great product for fine lines, wrinkles and early signs of aging. The addition of niacinamide makes it effective against hyperpigmentation too.
It is a great option for someone who is just starting out with retinoids (Note that retinoid is an umbrella term for all kinds of topical vitamin A derivates from tretinoin to adapelene to retinol and retinaldehyde).
Once tolerance to retinol builds up, one can slowly switch to more potent products. Luckily, side effects like skin peeling are generally not seen with the use of gentler retinol-containing products.
The downside to this is that retinols are typically weaker than retinoids. They take longer to act. One would need 4-6 months of consistent retinol usage to see a change in the skin quality and texture in terms of fine lines and wrinkles [1].
This product would not be suitable for more mature skin with advanced signs of skin aging. Retinoid creams would be a better alternative in that case.
FAQs
How long will it take to see results?
Regular use for 4-6 months is needed to see significant results with retinols.
How can I incorporate Retinol into my skincare routine?
Retinols are to be used at night. You can layer them with a moisturiser on top. You may also opt for a 'sandwich' technique - moisturiser, retinol product, moisturiser. This is the ideal way to use retinoids. For retinols (especially this kind formulated with ceramides, vitamin E and hyaluronic acid), the sandwich technique is generally not needed.
Does this product contain fragrance or other irritants?
No, it doesn't. The irritation potential is minimised in this particular formulation.
The Bottom Line
CeraVe's Skin Renewing Retinol is a great option for someone just setting foot into the world of retinoids.
Gentle but effective, it is worth adding to your PM routine.
If you're a newbie, this is definitely for you!