If you are looking for a natural way to enjoy soft and silky skin, consider adding a refreshing addition to your beauty routine with a body scrub.
Read on to learn how to use a body scrub, as well as the benefits of adding one to your routine.
How to Use Body a Scrub
For best results, use a body scrub while in the shower.
Start the process by getting your body wet using lukewarm water.
Apply a few drops of your favorite scrub to the skin and gently massage using a circular motion into the desired area.
Wash the scrub off with lukewarm water and pat dry with a clean and dry towel.
Be sure not to press too hard when massaging the scrub or you will risk irritating the skin.
Follow this process up with your favorite body moisturizer to deliver hydration back to the skin.
Recommended Body Scrub to Try
1. Visha Sugar Shrink Body Scrub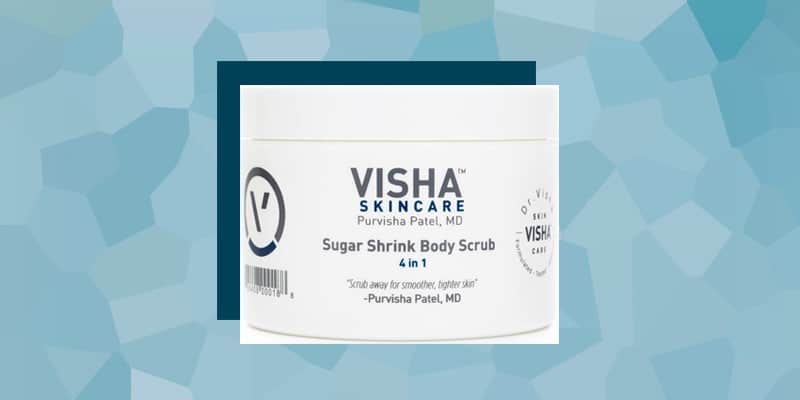 The Sugar Shrink Body Scrub will leave your skin feeling refreshed and rejuvenated. Created by Dr. Purvisha Patel, founder of Visha Skincare and dermatologist with Advanced Dermatology & Skin Cancer Associates. Boasting a formula of real caffeine, pure sugar cane crystals, and cold-pressed grape seed and avocado oil, this premium product moisturizes the skin as it sloughs away dead skin cells.
The scrub softens skin while providing nourishment to dry and scaly patches. This versatile scrub is also ideal for scrubbing lips and dry feet, making it a good choice for all of your exfoliating needs.
Like all Visha Skincare products, this scrub is free of parabens, fragrances, and sulfates.
Benefits of Body Scrub Exfoliation
There is no shortage of amazing reasons why you should add an exfoliating scrub to your arsenal of beauty and skincare routine.
Here are just a few of the great benefits of using a body scrub:
1. Unclogs Pores
The primary benefit of using a body scrub is that it will clear out clogged pores by sloughing away dead skin cells. Studies show that as the scrub goes to work exfoliating, old skin cells and other debris and impurities will be swept away, leaving a clearer complexion as a result.
2. Prevents Acne
By working hard to unclog pores, the occurrence of acne breakouts will also decrease. It is important to note that scrubbing too vigorously will irritate the skin and have the opposite effect.
3. Boosts Cell Turnover
Your skin will look more radiant than ever as the scrub works to boost skin cell turnover. It is this increased skin cell turnover that leads to a dewy and fresh complexion.
4. Increases Effectiveness of Other Products
You are wasting your time and money if you apply skincare products to skin that has not been exfoliated. A quality body scrub will ensure a clean slate for the other products to get to work and penetrate deep into the skin.
5. Promotes Even Skin Tone
You can achieve a coveted smooth skin tone with a good body scrub. By breaking down dead layers of skin while simultaneously smoothing the texture, the skin will instantly look more even and sultry.
FAQs
How long does it take to see results?
It will not take long for you to feel the results of an invigorating scrub. Your skin will feel soft and smooth to the touch instantly after using the scrub.
For visible improvement of skin discoloration and acne, you may need to wait a few weeks to see results.
How often should you use a body scrub?
When you first begin using a scrub, limit the application to just twice per week. You can then work your way up to using the product every other day for the best results.
Can you make a body scrub at home?
While it is certainly possible to make a scrub at home, it is better to stick with proven formulas so that you do not inadvertently use ingredients that may irritate your skin.
The Bottom Line
Body scrubs are a great way to naturally soften skin, and provide gentle exfoliation. And, learning how to use a scrub is so simple. They are appropriate for use all over your body (including your face!). For best results, use an exfoliating scrub at least two times a week.