COSRX is a popular Korean skincare brand that offers a variety of products for different skin concerns, including moisturizers.
We did a deep dive on their popular moisturizer, the Advanced Snail 92 All in One Cream. Continue reading to find out what our thoughts are.
Key takeaways
Powerful moisturizer with humectant properties
Can be used by all skin types, including oily skin
Highly suited to those with sensitive skin
Cosrx Face Cream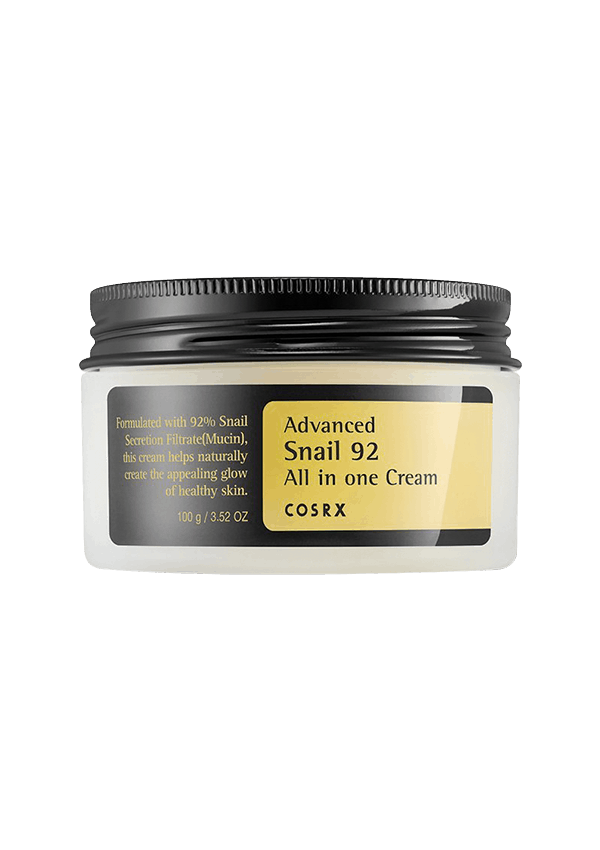 Daily Moisturizer
COSRX Advanced Snail 92 All in one Cream
This face cream is enriched with snail mucin, which works to repair, replenish, and provide anti-aging benefits while maintaining moisture levels in the skin.
Skin types:
All Skin Types
Best for:
Daily Moisturization
How to use:
After cleansing and applying any serums and treatments, gently massage the cream into the face, neck, and chest. During the day, follow up with a sunscreen.
See on Amazon
The key ingredient in this cream – snail mucin – protects the skin from moisture loss, while also improving elasticity to help the skin maintain firmness. It also helps soothe red and sensitized skin.
Pros
Lightweight
Fragrance-free
Cons
Contains animal byproducts
Some reviewers note that it feels sticky on the skin
While the cream does contain animal byproducts, COSRX claims to use a cruelty-free method that does not cause any harm to animals while obtaining the snail mucin.
Snail mucin has been all the rage in the recent years, having been introduced to us by Korean beauty! It is derived from the mucous glands of snails.
Although snail secretion doesn't sound particularly appealing, snail slime has been shown to have a mix of substances that can promote skin hydration and wound repair.
Recently, there have also been studies showing the effectiveness of snail mucin in decreasing the appearance of fine lines and wrinkles.
Product Overview
The COSRX Advanced Snail 92 All in One Cream is an all-natural jelly cream containing 92% snail secretion filtrate, giving it the slick texture of a gel. It is extremely light-weight.
In addition to snail mucin, it also contains a host of other moisturizing ingredients with soothing and humectant properties.
Together, these are intended to provide hydration to the skin while also helping with skin barrier repair.
Claims
The COSRX Advanced Snail 92 All in One Cream is a moisturizer enriched with snail mucin 92% which gives the skin nourishment and moisture without making it greasy or oily.
It helps to protect the skin from moisture loss while improving skin elasticity. Snail mucin helps repair and soothe red and inflamed skin.
COSRX also claims to be a cruelty free brand, and they do not test on animals. The Advanced Snail 92 All in One cream is also 100% cruelty free, causing no harm to the animals in the manufacturing process.
Key Ingredients
1. Snail Secretion Filtrate
Mucin produced when snails are under stress contains a complex mixture of proteoglycans, glycosaminoglycans, glycoprotein enzymes, hyaluronic acid, peptides and trace elements including copper, zinc, and iron.
It is released from the snail's salivary glands as well as it mucous glands. It is purified and only then can it be incorporated into usable skin care in the form of a 'snail secretion filtrate'.
Proteoglycans and glycosaminoglycans are sugar-based humectants which hold onto a lot of water, making the skin plump and hydrated. The other ingredients help in skin repair and regeneration.
Snail mucin has been shown to regenerate damaged structures of the snail's skin in less than 48 hours. These regenerating properties are thought to be beneficial for human skin as well.
Other beneficial effects include:
Antioxidant activity: It decreases free radicals in the skin, which are responsible for skin damage and aging.
It increases collagen production. It also prevents breakdown of collagen, helping the skin maintain its structure and integrity. This prevents formation of lines and wrinkles.
Anti-inflammatory action that soothes the skin.
2. Sodium hyaluronate
Sodium hyaluronate is a salt derivate of one of the most popular humectants, hyaluronic acid.
Just like hyaluronic acid, it has an excellent capacity to bind water, increasing the hydration of the skin. This makes the skin look plump and dewy, making fine lines look less prominent.
3. Soothing and cell-signalling ingredients
The COSRX Advanced Snail 92 All in One Cream has a host of other goodies!
Betaine is a natural product derived from sugar beet. It helps the skin hold water, acting as a humectant and providing deep hydration.
Panthenol has skin-soothing properties. It decreases inflammation and redness.
Adenosine is a potent ant-inflammatory agent. It helps with repair of the skin barrier.
Allantoin promotes wound healing.
Arginine is a peptide and part of the skin's natural moisturizing factor.
How to Use
Cleanse your face and pat it dry. You may or may not use a toner.
Gently apply a proper amount of the cream on face.
Gently pat the cream into the skin.
Wait for 15-30 minutes before moving on to the next steps of your skincare routine. This time allows for complete absorption of the cream.
When to apply
You can use it during the daytime or night. When using it during the day, do not forget to top it off with your favorite sunscreen! Because snail mucin helps with skin repair and regeneration, it is ideal to use it at night for maximizing its benefits.
Because the COSRX Advanced Snail 92 All in One Cream does not contain any irritating actives, you can use it with other products containing retinoids or chemical exfoliants such as alpha hydroxy acids or beta hydroxy acids.
Other Tips
If you're vegan, it would be best to avoid this and other snail-derived products. COSRX does claim that their products, including the snail mucin-based ones, are cruelty-free.
Snail mucin is safe and well-tolerated. Unless you have specific allergies, this product should not cause any irritation or reaction.
What to Expect
Your skin will instantly look and feel fresh and hydrated. The humectant properties of all the ingredients in the COSRX Advanced Snail 92 All in One Cream help the skin bind water and feel hydrated. This, in turn, will minimize dullness and fine lines and wrinkles.
FAQs
How long will it take to see results?
Your skin will instantly feel well-nourished and hydrated. Regular use will help the skin look fresh and dewy.
Does this product contain fragrance or other irritants?
No, it does not. It is free from fragrance, alcohol and essential oils.
The Bottom Line
The COSRX Advanced Snail 92 All in One Cream is a powerhouse of humectants! Snail mucin is, by no means, a magical anti-aging ingredient. It acts by nourishing the skin and making it look plumper and younger.
Even though it may not completely diminish fine lines or wrinkles or have magical anti-aging properties, it IS a highly effective moisturizer. It is also an excellent moisturizing cream for sensitive skin because of its barrier repair properties.