Key Takeaways:
CeraVe Vitamin C Serum contains 10% L-Ascorbic Acid
Handy, opaque, tube packaging
Best for those looking to target hyperpigmentation, uneven skin tone and sun damage
CeraVe Vitamin C Serum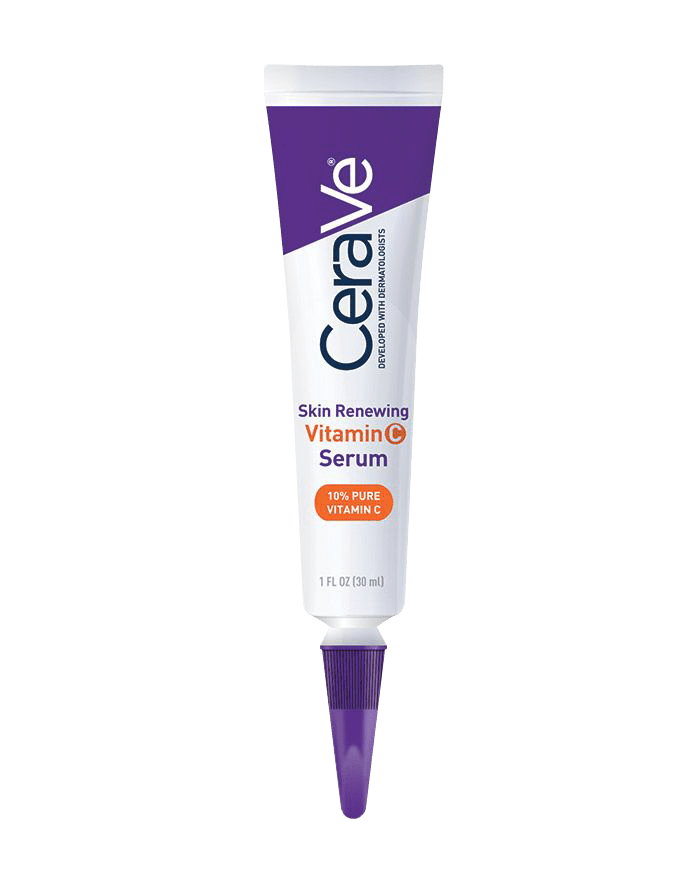 Best CeraVe Vitamin C Serum
CeraVe Skin Renewing Vitamin C Serum
CeraVe's Skin Renewing Vitamin C Serum, containing 10% L-ascorbic acid, is a gentle formulation which mainly targets hyperpigmentation like uneven skin tone, blemishes and other effects of sun damage.
Skin types:
All skin types
Best for:
Hyperpigmentation and brightening the skin
How to use:
After cleansing, apply a few drops of the product and gently massage into the skin
See on Amazon
CeraVe's Skin Renewing Vitamin C Serum a great way to lighten blemishes and other discoloration.
Pros
Affordable
Gentle formula
Contains hydrating ingredients
Cons
Contains denatured alcohol
Oxidative stresses resulting from sun exposure as well as pollution and smoking can speed up the skin's natural aging process, increasing fine lines, wrinkles and pigmentation. Antioxidants like Vitamin C and vitamin E help prevent such oxidative damage to the skin.
The CeraVe Skin Renewing Vitamin C Serum is formulated to provide protection from oxidative damage while also brightening and evening out the skin tone.
Product Overview
The CeraVe Skin Renewing Vitamin C Serum, containing 10% L-ascorbic acid, is a gentle formulation which mainly targets hyperpigmentation like uneven skin tone, blemishes and other effects of sun damage.
What stands out with this product is the opaque, tube formulation as opposed to the amber colored bottles that other brands use.
It allows for easy application of the serum directly onto the face without the need for a dropper.
This also minimizes oxidation of vitamin C from exposure to air, which can otherwise render it ineffective.
Claims
The CeraVe Skin Renewing Vitamin C Serum claims to provide antioxidant protection and improve skin texture. With its 10% pure vitamin C (L-ascorbic acid), it helps to brighten the complexion and make the skin more even-toned.
The ceramides, hyaluronic acid and vitamin B5 (niacinamide), formulated using the MVE (multivesicular emulsion) technology act to repair and maintain the skin's natural barrier by releasing moisturising ingredients over 24 hours.
Key Ingredients
1. L-Ascorbic acid (10%)
It is the most active and also the most researched type of vitamin C with clinically backed studies.
The sweet spot for vitamin C concentration in skincare products for maximizing efficacy is 10-20%.
Ascorbic acid acts in various ways:
Its antioxidant effect neutralizes the free radicals that are responsible for cellular damage and accelerate aging.
It decreases melanin production by inhibiting the enzyme responsible.
It increases collagen production and also stabilizes existing collagen.
2. Vitamin E (Tocopheryl acetate)
Vitamin E helps to stabilize vitamin C.
It also has antioxidant effects, working synergestically with vitamin C.
3. Ceramides
The serum contains three ceramides, which help keep the skin barrier intact. It also contains other moisturising and soothing ingredients like panthenol and glycerin.
4. Others
The product does contain denatured alcohol. However, this is used here as a stabilizer for vitamin C as the molecule of L-ascorbic acid tends to be very unstable and easily degraded.
How to Use
After cleansing and drying your face, gently apply a pea-sized quantity of serum all over the face, starting with the cheeks and forehead.
You can very carefully just glide some of the serum along the under-eye region making sure it doesn't get into your eyes.
When to apply
One can use the vitamin C Serum twice a day.
If you are using a retinol-based product as part of your anti-aging night routine, it is best to leave the vitamin C for the morning.
Having it on skin all throughout the day will help protect the skin from the oxidative damage resulting from sun exposure, dust and pollution.
Other Tips
1. Use sunscreen
Always layer your vitamin C serum with sunscreen on top. This ensures overall protection from oxidative damage.
2. Go slow if you have sensitive skin
Ascorbic acid can potentially cause some skin irritation and even acne breakouts in a few individuals. So, work your way up from 10% to 20% vitamin C.
Studies have shown that beyond 20%, vitamin C has no added efficacy but added irritant potential.
3. Careful storage and care
Always cap the lid of the tube so as to prevent oxidation of the product.
Once oxidized, it can discolor your skin dark orange temporarily on use. It may also become more irritating and ineffective once oxidized.
Always store the tube in a cool and dry place.
What to Expect
It takes about 6-8 weeks of consistent use along with regular sun protection for any skin changes to slowly start becoming visible.
Blemishes and marks will lighten and the skin will look more even-toned.
This serum is also very hydrating. It can easily be incorporated into your AM skincare routine without the need for an additional moisturizer.
FAQ
How long will it take to see results?
It can take at least 6-8 weeks for you to see noticeable changes from using the serum.

Although it does help with pigmentation, vitamin C is not really going to correct existing deep wrinkles. It has a preventative action on the skin, minimizing collagen degradation in the first place.
Does this product contain fragrance or other irritants?
Ascorbic acid, by itself, can sometime be irritating but the gentle formulation of the CeraVe Skin Renewing Vitamin C Serum along with the ceramides minimizes this, making it suitable even for sensitive skin types.

There is no fragrance in the product.

It does contain denatured alcohol, which is dehydrating for the skin. However, it is needed in order to maintain the stability of L-ascorbic acid so that its active form is delivered to the skin.

The other moisturizing ingredients combat any drying effects that may arise as a result of the alcohol. Overall, it is a light and hydrating formulation.
The Bottom Line
CeraVe's Skin Renewing Vitamin C Serum is a gentle way of making vitamin C a part of your skincare routine.
It is useful if you have concerns of uneven skin tone, blemishes and early signs of aging.
If you have more mature skin, a more potent formulation with additional antioxidants would be needed.